A cozy accommodation perfect for families.
What's Casa Plumeria Like?

A vacation rental perfect for couples or families
Casa Plumeria is a cozy accommodation option located right next to Casa Mango at Aloha Surf Nosara. Perfect for families of 3-5 people, this property offers a range of amenities to keep guests comfortable and entertained. When not hitting the waves at the nearby beach, guests can take a dip in the on-site swimming pool or relax in the living room and catch up on their favorite movies on cable TV. The well-equipped kitchen also allows families to cook their own meals with ease using the provided utensils.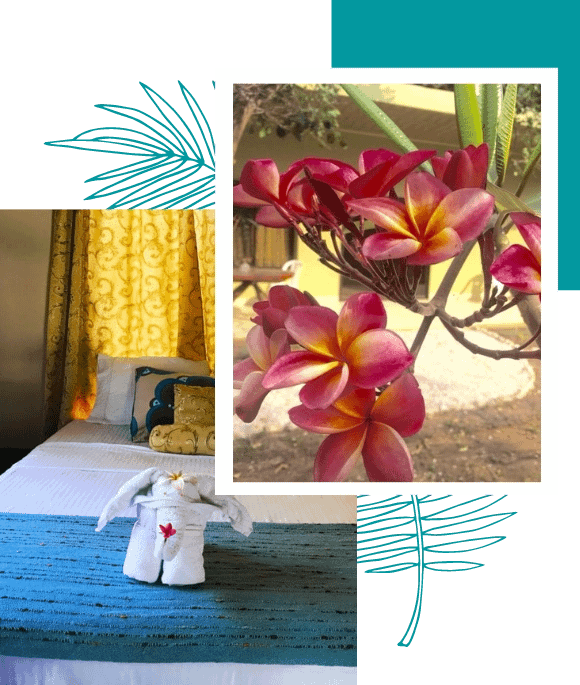 Located just a short 4-minute walk from Playa Guiones, you'll have easy access to all the fun and relaxation that the beach has to offer.
2 Bedrooms, Queen-sized beds, sleeps 5
Kitchen – fully equipped & Dining Area
Living Room with pullout couch to queen bed
2 Bedrooms, queen-sized beds, sleeps 5
Pullout couch to queen bed
Living Room with Dining Area
This is the second year we have stayed at Aloha. It's a good location because you are walking distance from all the restaurants and the beach. Double master bed rooms in Casa Mango and Plumeria. Full kitchen and outdoor kitchen. We love this spot and will stay again! Thank you Tyler!
Former Guest, 2023
Dayvid, AirBnB Review
Casa Plumeria is a great place to stay at an affordable price. It's not luxury, but it has everything you need. It's clean, the beds are pretty comfortable, and there is always someone nearby to help if you need it. The location is great. You can get to almost anywhere in North Guiones on foot in 10 minutes or less. The shared pool is beautiful and clean!
Former Guest, 2022
Laurie, AirBnB Review
Tyler's complex is a hidden gem. While you may find more luxurious accommodations in the area, it's hard to beat the value at Plumeria. You're a short walk from the Guiones area, or a 10 minute walk from the middle of the beach. Nothing is very far, but you'll enjoy having wheels of some sort. The shared pool is a nice oasis, especially for children.
Former Guest, 2022
Jason, AirBnB Review
Check out other rental options
Any Questions to our Rentals?