Perfect for anyone looking for a comfortable and spacious place to stay.

A vacation rental with enough room for couples or a bigger family
Casa Ohana is the perfect accommodation for anyone looking for a comfortable and spacious place to stay. Whether you're a couple or a big family, there are plenty of rooms to go around, with enough space to sleep up to 6 guests. The shared pool and rancho are perfect for getting together with friends and family, whether it's for a BBQ after a day of surfing or just to cool off in the pool after a day at the beach.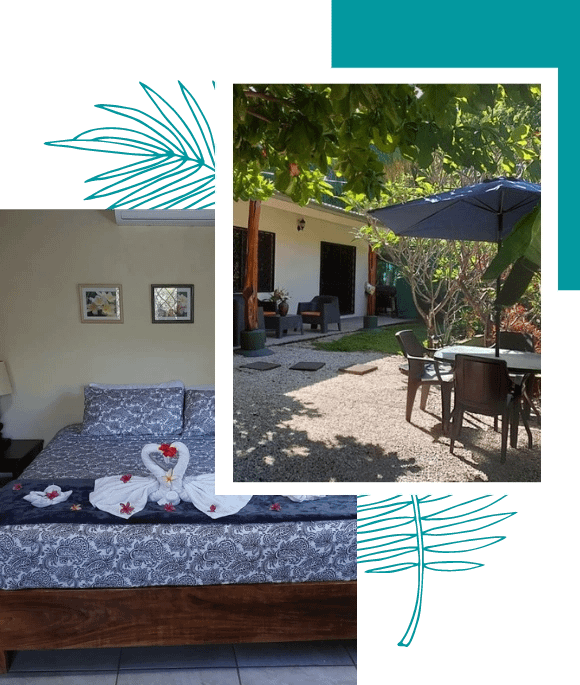 With plenty of room to make new memories and have fun together, this rental home is the ultimate paradise getaway. While the master room counts with a king-sized bed, the 2nd room is equipped with a queen-sized bed and the 3rd room with a queen-sized and individual bed.
3 Spacious Bedrooms, sleeps 7
Big Kitchen, fully equipped
Big Living & Dining Rooms
3 Spacious Bedrooms, sleeps 6
Shared Rancho, BBQ & Pool
The Aloha compound is more beautiful and larger than expected. Casa Ohana is a very spacious home with all of the amenities you would need, plus hammocks, a lovely shared pool and Rancho. There is a storage area where you can rent boards for the day (over 30 high quality boards to choose from). Tyler was very responsive with any questions we had. There is also a maid to provide new linens and tp and does your laundry for $20. The location cannot be beat! It was very quiet at night.
Former Guest, 2023
Michele, AirBnB Review
Once again my family enjoyed our visit to this great find. We always feel welcome and are planning our next trip back. All questions were quickly answered and the home was more than accommodating. It has a very spacious layout. After long days of surfing and running around town we enjoyed having a poolside cookout. Tyler knows how to give Aloha and Pura Vida vibe!
Former Guest, 2023
Rob, AirBnB Review
Awesome location walking distance to the beach and great restaurants and bars! We were in town for a work event so didn't spend as much time as we would have liked at the pool, but it was a great shared pool yet still very private and comfortable with the few other villas. Our place was open, spacious and great for 4 people. Tyler is an awesome and super-friendly host and we'd love to come back soon.
Former Guest, 2023
Danielle, AirBnB Review
Check out other rental options
Any Questions to our Rentals?