A favourite for couples who are seeking for a chilled surfing vacation.
A Vacation Rental perfect for couples
Casa Mango is the ideal destination for newlyweds seeking a romantic and adventurous honeymoon. This stunning location is a favorite among couples who want to combine their love for surfing with a relaxing vacation. The two bedrooms are beautifully designed to create a romantic atmosphere, and the attached bathrooms provides easy access. The kitchen is equipped with everything you need, and the sun terrace offers breathtaking views of the lush gardens. This rental home is the perfect place to start your new life together.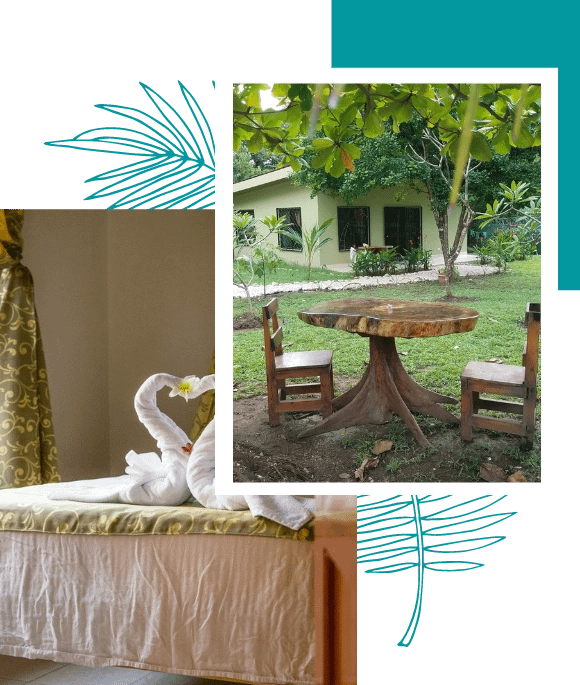 At Casa Mango guests can also enjoy the cool bar and take a leisurely stroll through the gardens, discussing their hopes and dreams for the future. Whether you're looking for adventure or relaxation, this rental home is the perfect destination for a memorable honeymoon.
2 Bedrooms, Queen-sized beds, sleeps 5
Kitchen – fully equipped & Dining Area
Living Room with pullout couch to queen bed
2 Bedrooms, queen-sized beds, sleeps 5
Pullout couch to queen bed
Living Room with Dining Area
Tyler was very accommodating and helpful with an early check in. He even met us at the front gate to show us around.
I really like the location as well. Super quiet and private. Two bedrooms with our own bathrooms as well. Just perfect.
I'd definitely recommend this place. And I'll surely be booking with Casa Mango and Tyler the next time I'm in town and need a place to stay.
Former Guest, 2023
James, AirBnB Review
This is our second time staying at Casa Mango. We love the location, it is peaceful and quiet yet a short walk to the beach and everything we need. I love the shady front porch, the outdoor shower, the common pool and the layout with two private bedroom suites, and the AC and Wi-Fi work great. It is an amazing value for the Guiones area. I loved watching the iguanas who live on the property and had a family of monkeys come through. Tyler and his cleaning staff are very helpful and responsive when we have any questions or need anything.
Former Guest, 2023
Barbara, AirBnB Review
Our family struck gold with Casa Mango! Tyler was an amazing host and went above and beyond to help our family feel at home in the space. As a family traveling with children, the high chair, kids' cups, and children's books had a huge impact on making us feel at home.
The space is GORGEOUS and family friendly. The location was perfect for easy access to shops and the beach but also quiet peace. Of the three locations we stayed in Nosara, Casa Mango was by far the best. We hope to return and highly recommend!
Former Guest, 2022
Skyler, AirBnB Review
Check out other rental options
Any Questions to our Rentals?